Santa Marta: heart of the caribbean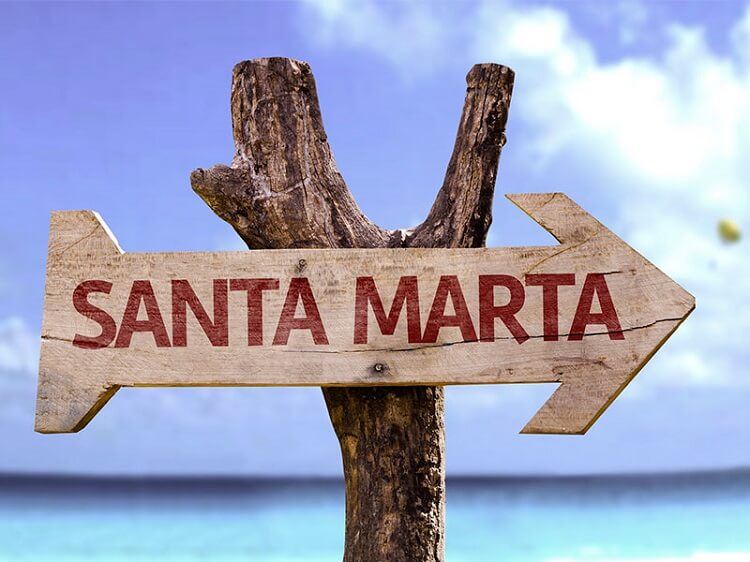 Step into the oldest city in Colombia and the heart of the Caribbean. As the first Spanish settlement in the country and located between the Sierra Nevada mountain range and the shores of the Caribbean Sea, Santa Marta has a ton to offer you. Many tourists come for the history, but it is popularly known as a beach destination and a great place to get in touch with Mother Nature.

History buffs will enjoy Quinta de San Pedro Alejandrino, the historic colonial mansion where infamous liberator Simon Bolivar lived out his last days. Its grandeur won't disappoint! To see some of the pre-Columbian history, visit the Museo de Oro (Gold Museum) which showcases archaeological finds from the local populations, whom largely worked with gold.
Take a short ferry ride and enjoy some time at Playa Blanca, relaxing on the sand as the waves lazily lap the shore and marine birds soar up high above you, occasionally diving for dinner. For an even closer beach, El Rodadero is located in the city limits but has the feel of a nice getaway destination. The nightlife here isn't to be missed, as live music and beach bars light up the night. A quick drive away is Taganga, a small fishing village with a quaint, quiet beachfront where you can watch the fisherman coming in with hoards of fresh seafood, and where the stunning sunsets bring warmth to your soul.
If nature is your calling, this is the place for you. Not too far from Santa Marta is the famous Tayrona National Park, where protected mangrove forests hide nicely maintained walking trails, leading from beach to beach. The park is even equipped with accommodation ranging from sleeping in a hammock to renting a cabaña. Stay as many days as you'd like and explore the gorgeous beaches that are sure to make you fall in love.
If you want a break from the heat, the small village of Minca is a quick car ride away, where refreshing, clean waterfalls and natural pools call you to jump in and cool off. Swim in the clear waters fringed with jungle-esque vegetation. It's located slightly uphill from Santa Marta, providing cooler air temperatures.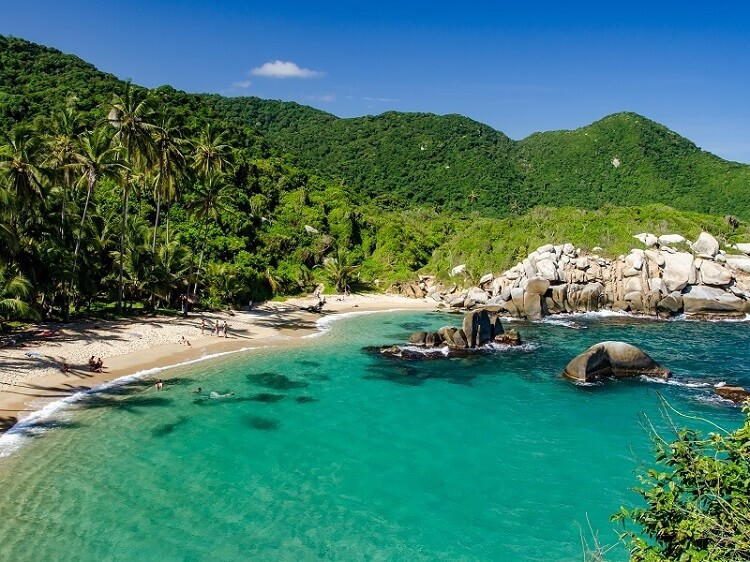 Head further into the Sierra Nevada mountains to challenge yourself with a multi-day trek through tropical forests and head back in time as you hike with a local Indigenous guide to Teyuna, the Lost City. It isn't an easy feat, but it is completely worth the effort to arrive at what is known as Colombia's Machu Picchu. This archaeological site is considered sacred by the indigenous communities and is well protected. Only parts of the city are opened for tourism as it is extensive and still mostly covered in forest growth. Climb up hundreds of stone steps to reach the top of the city and get rewarded with an unbelievable view. Along the way you'll learn all about the beliefs of the 4 indigenous groups who claim ancestry here, their traditions, and history.
Santa Marta's culinary scene is something of its own spectacle, especially when it comes to seafood and fruit. Indulge in the freshly caught fish and try the local ceviche. Street food is plentiful, and restaurants have everything you could want, so be sure to take a look around and taste the wonders of the Caribbean!
Its beaches are the perfect place to disconnect from the world and enjoy every ray of sun; they are a perfect fusion between warm waters and great mountains: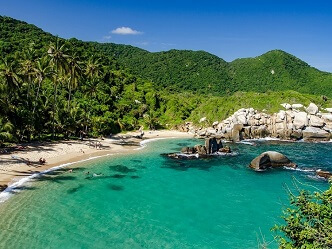 Playa Cristal
that is one of the natural reserves of the Tayrona Park. When entering this wonderful place, you must go through a station where they tell you a little about the history of the park and give you some recommendations for taking care of the place.
You will have the opportunity to see beautiful landscapes, its white sand beaches, the infinite blue of the sea and the green of its mountains make you stop in time and want to have that moment in your memory forever.
Playa Granate
If you are the type of tourist looking for tranquility and a good place to rest, this beach is the perfect one for you. It is a beach with a lot of privacy and little tourism. It is advisable to take food and drinking water so you can spend a peaceful and happy day, since this beach does not have restaurants.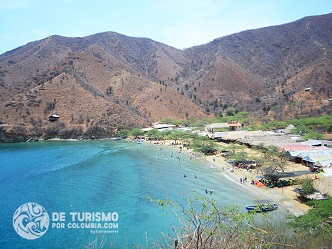 Playa grande
A place with clear waters, you can enjoy the cuisine of the area as this beach has different posts that stand out for its good cuisine. To enter this paradisiac island you have two options, by boat in a route of approximately 15 minutes or through an ecological trail in a route of 30 minutes that allows you to have a wonderful view of the sea.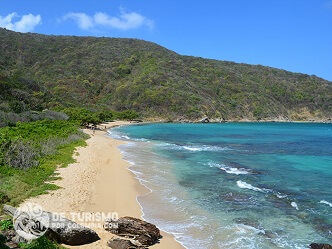 Bahía concha
Its sea is very calm due to the great mountains that surround it. It is a perfect place to enjoy next to the smallest ones, surrounded by green vegetation. You must visit this beach at least once in your life.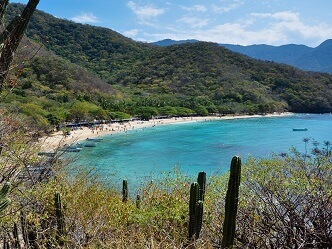 Neguanje
considered the largest beach in Tayrona, surrounded by imposing landscapes and known for the beautiful sunsets that you can see in the place. You can immerse yourself in its clear waters and enjoy the variety of marine life it has. It is a place where you can sit freely and contemplate the world around you.
Recommended Hotels:
– Estelar Santamar
– Casa Tayrona los Naranjos
– Hotel Merecumbé
– Hotel Boutique Don Pepe
– Ecohabs Tayrona
– Placita Vieja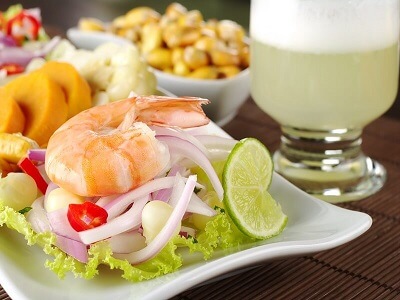 To the tune of the Caribbean rhythm, Santa Marta offers many entertainment alternatives for when the sun sets down. Places you can visit:
Recommended restaurants:
– Oh la la La Puerta | Calle 17 #2-29, Santa Marta 470004, Colombia
– Crab's Bar | Calle 18 No. 3-69 | Calle del Pozo, Santa Marta, Colombia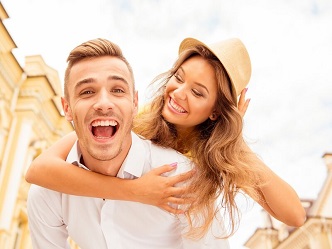 Parque de los novios
A place where both tourists and local people meet to enjoy the wide variety of restaurants and bars around it. This park is located in front of the Palace of Justice and is a symbol of the city.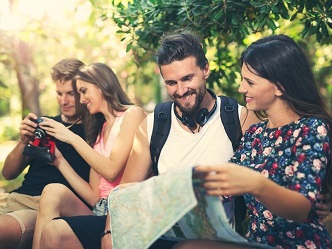 Catedral de Santa María
One of the most familiar places for the inhabitants of Santa Marta recognized as the first church built in continental America. The cathedral has a small urn with the heart and entrails of the Liberator Simón Bolivar that today rest in the cathedral.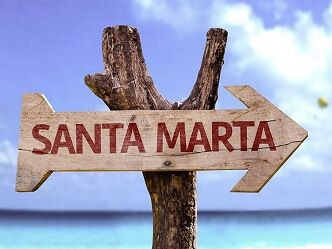 Paseo por su cento histórico
Charming places like its streets full of tradition and history make Santa Marta a simply magical place.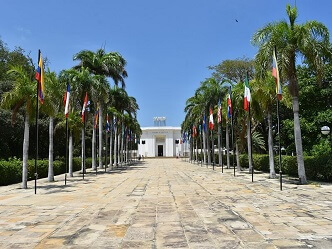 Quinta de san Pedro Alejandrino
between history, art and culture this place receives its visitors. The estate where the liberator Simón Bolivar died preserves some architectural characteristics and jewels of that time; now managed by the Bolivarian Museum of Contemporary Art Foundation.
Museo del oro Tayrona
A place that protects thousands of treasures aims to rescue the historical and cultural heritage of the region. It has four thematic halls in which you easily achieve a connectivity between the historical and modern. They are "Pre-Hispanic Societies", "The people of Magdalena", "Stories from the Casa de la Aduana" and "Bolivar was here".